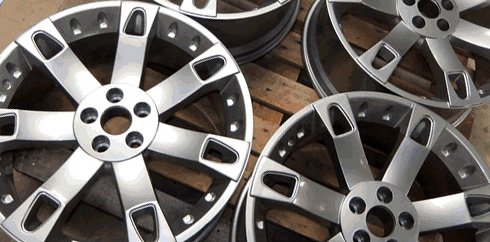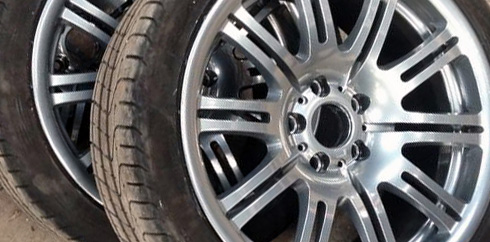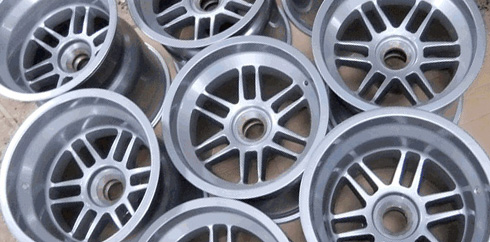 Prices start from just £180 (+VAT) for a set of alloy wheels up to 19" diameter without tyres. If your tyres are still fitted, we can remove and re-fit your tyres, including balancing, for an extra £10 per wheel. We have the facility to store your car on a ramp whilst the wheels are refurbished, an additional charge of £40 is applicable for this service.
We are also able to powder coat any other item you require, in a huge range of colours and surface finishes. Below are just a selection of items we regularly powder coat for our customers:
Chassis Components & Anti Roll Bars
Motorbike & MTB Frames
Engine Mountings
Wishbones & Subframes
When working with items such as above, we carefully prepare and mask machined faces, bearing housings and any other section that does not require coating.
Please do not hesitate to get in touch if you have an item you wish to have powder coated, or have any questions and we can see if it is possible. We are not limited to the above items, view our gallery to see what types of items we have powder coated in the past.
Also commonly referred to as sand blasting, it is a reliable and powerful process used for cleaning or finishing metal objects. We use both compressed air and centrifugal wheels where required, that jets abrasive particles onto the surface of the metal to restore the finish. Small particles of steel or iron are used as an abrasive substance to remove minor imperfections revealing a smooth even surface.
We offer this service for customers who require items preparing and cleaning before continuing with their own paint or surface coating. Please get in touch if this is a service you require without powder coating and we can quote accordingly.

01772 613 379
07767 344 959

Tilling Alloy Wheel Refurbishment
Pilots Cottage,
Grange Lane,
Preston,
PR4 5JD
If you wish to contact us with your enquiry by e-mail, or leave us your comments about our work, please use the form below. One of our team will get back to you as soon as possible:
After the alloy wheels on my BMW 7 Series needed refurbishing, I spoke to Ron at Tillings. They answered all my questions and did a fantastic job. Very nice guys to deal with!
I was considering buying new alloy wheels for my car until I was recommend to contact Tillings. I couldn't believe the transformation of the wheels, and all done in a couple of days. The wheels look fantastic and I have saved a lot of money versus the cost of a new set!
Very quick and efficient service from start to finish, my set of alloy wheels came out great. Pleasure to deal with - I have recommended them to a number of people since!
The wheels on my Audi were heavily corroded and pitted. After contacting Tillings, I chose to have them refurbished in the same factory finish. I could not believe the difference, they are actually like new. I would not hesitate to recommend your services to other people who have wheels in poor condition!