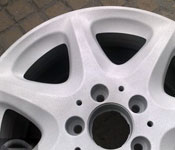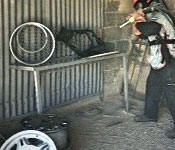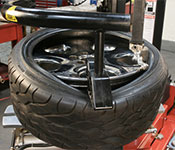 Before we can begin to refurbish your wheels, the tyres have to be removed. Old paint and surface coatings are removed to reveal the bare metal of the wheel.
Any damage to the rim and face of the wheel can now be filled and prepared by our experienced team. The entire wheel is then sanded and smoothed using various different methods, ensuring the surface is perfect before the powder coating process can begin.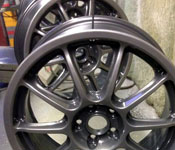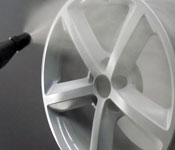 With the wheel prepared, the chosen style of coating can be applied. The wheel is electrostatically charged, then the powder is used to uniformly coat the wheel. This is done in three stages, firstly with a base coat, then the chosen colour and finally a protective clear coat.
Once the powder has been applied, it needs to be cured at temperature for a short period of time. This ensures the coating adheres properly to the wheel and will last a long time. If this part of the process wasn't properly done, the coating would flake off. After the wheel has fully cured, it is left to fully cool then inspected for any defects to the finish.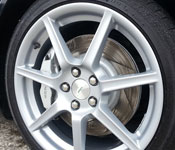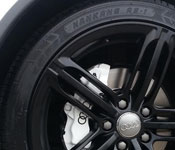 Once your set of wheels have fully cured and cooled, the tyres can be refitted using the reverse process of removal. As the tyre won't be fitted in the exact orientation as it was removed, balancing is essential. We perform full digital wheel balancing on each wheel adding small weights where required. The wheels are now ready to be collected or re-fitted to your vehicle. We only charge an additional £10 per wheel for the removal, re-fitment and balancing of your tyres.
Please Note: Modern vehicles with digital tyre pressure monitoring valves are considered to be the owners risk. These type of metal bolt in valves corrode, become brittle with age and quite often snap when removal is attempted. We always make our customers aware of this before taking the wheels for refurbishment and will not be responsible for damage to the valves.